Samsung Galaxy A6 Plus 2018 is the pricier variant of the Samsung Galaxy A6 2018. These two smartphones have several specs similarities. The A6 Plus however comes with a 6.0 inch edge-to-edge display (18:9 aspect ratio) that offers Full HD viewing experience. The Samsung Galaxy A6 Plus  phone features 4GB of RAM and is powered by Octa core processor. The phone also packs a 3500mAh battery which has an extra 500mAh juice capacity compared to the batter on the Galaxy A6.
The Samsung Galaxy A6 Plus features a massive 32GB internal storage that can be expanded up to 256GB via a microSD card slot. So pack more and store even more of your favorite multimedia when traveling, all without having to carry any dedicated storage device. The 1.6GHz, Cortex A53 Octa Core processor unleashes dominating processing prowess that just can not be stopped even if you run multiple apps at the same time. The 64bit CPU executes every task to its utmost potential, giving you a fluid user interface all while keeping the energy consumption in check. And if you're a gamer, the Adreno 506​ GPU will surely please you with its enhanced visual processing performance.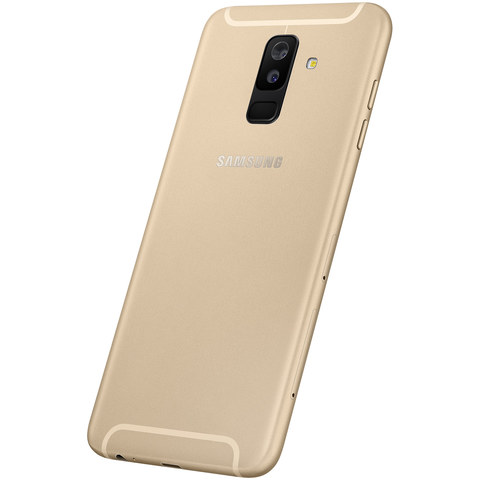 Seamless Design
The Samsung Galaxy A6 Plus 2018 Dual SIM smartphone has fused highly resistant rear 3D Glass with a gorgeous, 6.0 inch display to provide an exceptionally seamless design. That's the reason it is a stunner to look at, and a delight to hold. Sitting leveled with the rear casing, the absence of any camera protrusion allows for uniformly smooth, symmetrical design from all angles. The powerful 16MP, f/1.9 front and back cameras come in handy when you want to capture dedicated professional grade photos even in low light conditions. The device also features a floating shutter optimized for a firm grip, so your photos stay blur free.
Reliable Performance
Save time enabling and disabling Wi-Fi. Galaxy A6 lets you store Wi-Fi history and will automatically switch on and off when entering and exiting frequently used hotspots. Now you can enjoy seamless connectivity while reducing mobile data usage when moving in and out of Wi-Fi zones. By taking advantage of ARM's pre optimized software, the GPU increase FPS rates in almost every gaming title and allows you to indulge in hardcore gaming sessions on the go. And when a massive 4GB RAM module is added into the mix, you get to know that the device is made for serious users. Available in a Gold finish, Samsung Galaxy A6 Plus 2018 Dual SIM smartphone packs a 3500mAh, Li Ion battery that keeps you on the move for an extended period without stopping for a recharge.
Elegant and Simple
Save time and power. Get the essentials without even waking up this Samsung A6 Plus 2018 mobile. Tour calendar and clock are always in sight whenever you need them, thanks to the Always On Display. The device has Secure Folder feature that allows you to keep sensitive data and selected apps locked down,separating them from the regular content on your device. And with one time authentication, the device save you the trouble of having to log in every time.
Three levels of brightness
Add clarity to what you capture. Galaxy A6 features three-level front flash adjustment to avoid image degradation and glare when shooting selfies day and night. This Samsung Galaxy A6 Plus 2018 mobile boasts of 16MP, f/1.9 cameras, back and front. Shoot videos in FHD details or tap into an avid photographer in you with HDR mode. Perfect the colors or optimize the portraits the way you want; various built in camera filters make your cherished memories small works of art.
Ingress Protected
The Samsung Galaxy A6 Plus (2018)​ is the first Galaxy series to be bestowed with IP68 protection. The rugged, reliable build of the device always keeps you on the go, wherever the journey takes you. Protected against the ingress of moisture and dust, the almost impenetrable build of the Samsung Galaxy A6 Plus (2018) keeps its internal components away from the harm in most situations.
General Specifications
Octa Core 1.9 GHz
32GB, 4GB RAM
Main & front Camera 16MP
6.0 Inch, 3500 mAh battery
Android 8.0 (Oreo)
Check other Samsung Products